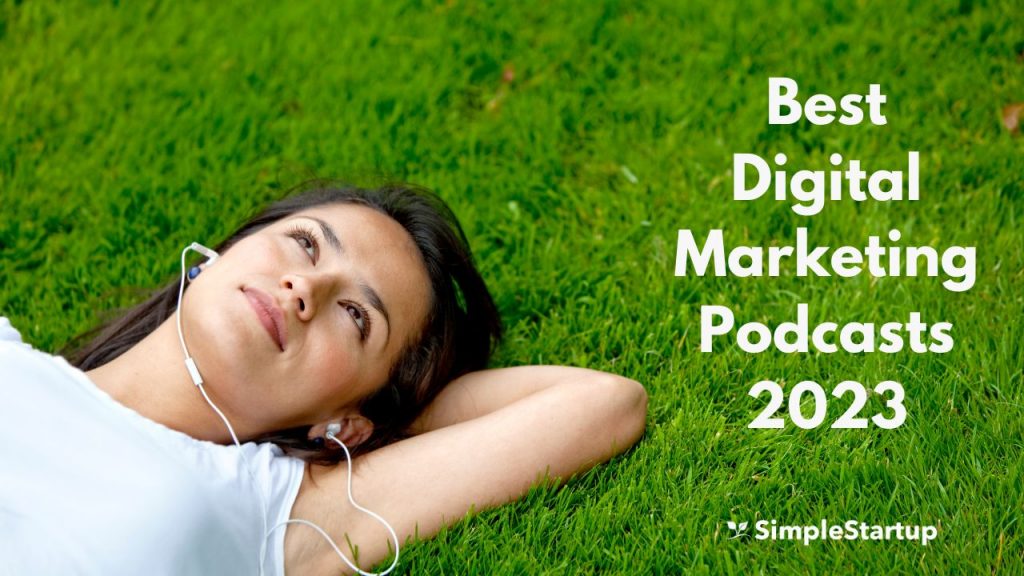 "Develop a passion for learning. If you do, you will never cease to grow" – Anthony J. D'Angelo
Gone are the days when you needed to figure out how to run your business and marketing on your own. There's so much cutting edge information available to us in the form of podcasts, so why not take every opportunity to learn from some of the best in the industry?
Why listening to podcasts is the one of the best ways to learn online
Sam Harris mentioned in one of his podcasts that he gets about 400,000 listeners per episode (usually 100,000 listeners within just the first day). Compare that to his books which can take years to publish and 100,000-200,000 people will read a book within the first year.
So it seems that more people are starting to pick up on using this medium to learn. It's not to say that books/audiobooks aren't a great way to learn — ebooks are still one of my favourite ways to learn — but podcast episodes are much shorter than audiobooks and ebooks, and so you're much more likely to listen to the full thing and get something from it — usually on your way to work or when you find some free time.
Each day I try to listen to at least 3 business and digital marketing podcast episodes, and I've found that it's really helped me generate new ideas for my business, blog posts, and improved my marketing and sales skills. I'm a lot more productive and knowledgeable simply because I chose to listen to podcasts regularly.
Of course, if you sit on this information and don't do anything with it, you won't really get much out of it learn anything, as real learning needs action. One of the most important things in succeeding online is "speed of implementation". So if you take away at least one idea and implement in your business, then you'll get a lot out of it and it'll be worth your time.
How to Download and Listen to the Digital Marketing Podcasts
One of the simplest ways to listen to the podcasts on the go is to download an app called Stitcher which is available for iPhone, iPad, Android and Kindle Fire. It's also a great app for discovering new podcasts (over 65,000+).
Without further ado, here's the top 10 marketing podcasts to subscribe to in 2023:
1. Marketing School Podcast
The Marketing School podcast by Neil Patel and Eric Sui is one of the shortest but actionable digital marketing podcasts available online. They started the podcast in July of 2016, and have published a new podcast episode ever day since.
In the Marketing School Podcast, you'll get a lot of great advice on how to become a more effective content marketer, improve your SEO strategy, marketing strategy and a lot more. Basically, anything related to marketing your business online, you'll get some great tips on each day.
The podcasts episodes range anywhere from 5-10 minutes, so if you're pressed for time each day, but still want an infusion of actionable marketing advice, then subscribe to their podcast.
2. Online Marketing Made Easy
I enjoy listening to Amy Porterfield's Online Marketing Made Easy podcast which is released every Thursday. You'll get tips on how to do a product launch, pre-launch, Facebook Ads, planning your promotional calendar and so on.
Amy is one of the most successful entrepreneurs when it comes to launching products and she speaks from experience, so I would recommend listening to her podcast if you need some guidance with these areas of your business.
The podcast episodes usually run from 30 minutes to an hour long, so it's something to listen to if you have a bit more time each day.
3. Smart Passive Income with Pat Flynn
When it comes to being transparent and authentic, the first person that comes to mind is Pat Flynn. Since 2006 Pat Flynn has been sharing actionable and insightful strategies as well as his progress and monthly income.
The SPI Podcast is one my favourite podcasts simply because of the insights I get from all the guests he interviews each week. If you're looking to be exposed to new authors, entrepreneurs, speakers, book recommendations, then subscribe to Pat's Podcast.
4. Art of Paid Traffic
The Art of Paid Traffic podcast is one of the best podcasts available for learning and mastering paid advertising.
The podcast focuses mainly on Facebook ads. You'll learn how to setup, optimize and scale your Facebook ad campaigns for success. You'll also get a lot of case studies from entrepreneurs who have launched successful businesses and campaigns with Facebook ads.
The podcast is hosted by Rick Mulready and each episode runs anywhere between 30 – 60 minutes long. So if you're looking for more advanced and detailed training on how to run successful Facebook ads, then subscribe to this podcast.
5. Actionable Marketing Podcast by Coschedule
I recently started listening to the Actionable Marketing Podcast and like the Marketing School Podcast, I've found that it's very actionable. However, if you're looking for something much more in-depth, then this podcast might be a good fit for you. The episodes are usually about 25 -30 minutes long, so you'll get much more insight from the guest in that time.
The point of the show isn't to give too much back story, but rather to provide proven, testable and actionable advice for entrepreneurs. You'll get step by step instructions on how to improve your content marketing strategy, SEO, sales funnels, etc. So subscribe to this podcast if you want to dig deeper into a topic.
6. Copyblogger FM Sonia Simone
I've been a reader of Copyblogger for at least 5 years now, and I've learnt a ton of knowledge in that time. They're definitely one of the most credible sources of information when it comes to copywriting and content marketing.
In the Copyblogger FM podcast hosted by Sonia Simone, you'll get deep insights from Sonia directly. If you're a blogger, then you'll get a lot out of it, as many of her advice speaks directly to writers and content marketers.
7. The Ray Edwards Show
The Ray Edwards show is co-hosted by Ray Edwards and his son. This is more of a light-hearted, humorous, and spiritually-focused business and marketing podcast.
Although there are many references to the bible to illustrate points and provide guidance, you don't need to be religious to get something out of it. The main feature presentation of the show is usually very insightful and you'll learn a ton from one of the best living copywriters — as well as everything from how to start and growing business.
I really resonate with this podcast, because Ray's mission aligns with mine, which is to help as many entrepreneurs start, run and grow their businesses successfully. Listen to this podcast if you want inspiration, humour and great business and marketing advice from a legend.
8. The Marketing Book Podcast
Do you like to read and want to know what the latest digital marketing books are? Then you'll like the Marketing Book Podcast.
The Marketing Book Podcast is hosted by Douglas Burdett who interviews best-selling authors on topics related to social media, content marketing, digital marketing, and sales.
This is a great podcast to listen to if you're looking for in-depth knowledge about a topic. The podcast runs about 30-45 minutes and is published once per week. Subscribe to this podcast if you want to solidify your understanding of the concepts found in the latest digital marketing books.
9. Growth Mapping Podcast – Sujan Patel
The Growth Mapping Podcast by Sujan Patel and Aaron Agius is a new podcast which launched in December 2016. Sujan Patel is one of the most prolific content marketers online. He publishes 300+ articles per year and is a contributor for Forbes, Entrepreneur, and other tier 1 sites.
Each episode is 15-20 minutes long, and you'll learn many growth hacking strategies, and customer acquisition tactics that will help you take your business to the next level.
If you're looking to expand your content marketing knowledge and growth mindset, then I would recommend subscribing to this podcast.
10. Perpetual Traffic Podcast
If you're looking for the most up-to-date and cutting edge information about Facebook advertising, then look no further than the Perpetual Traffic Podcast.
The show is hosted by Keith Kranc, Ralph Burns (Dominate Web Media) and Molly Pitman of Digital Marketer. They are highly experienced with Facebook Ads so you'll learn everything about Facebook ads such as how to create high converting ads, optimizing your campaigns, scaling campaigns and much more. You'll also learn advanced marketing strategies, sales funnel, and list building strategies.
I highly recommend this podcast if you're looking to master Facebook Ads and want to take your knowledge to the next level.
Conclusion
There are many other marketing podcasts that are worth mentioning and are just as great, but these are just some of the ones I happen to listen to the most. The key is to choose the ones you most resonate with and think will help you grow your business.
If you start to listen to just one podcast episode per day, and apply the information to your business, then I'm sure you'll see much better results in a short period of time.