So you want to know how to start a blog from scratch, but don't know where to start?
If so, then don't despair.  This is a common question I get from aspiring bloggers all the time, so you're in good company.
In this blogging guide, I'm going to show you exactly what you need to start a blog from scratch in 7 simple steps.
But before we delve deep into the mechanics of blogging, it's important to know why you should blog, and if it's right for you.
You should be able to answer this simple question: what is your purpose for blogging?
Here's some practical reasons why you may want to blog:
Increase brand awareness
Get more traffic to your website
Get more leads for your local business
There many be many reasons why you want to blog.  But it's important to get clear upfront about what your primary goal is.  This way, you'll stay focused when you start blogging.  Everything you do will be in alignment with this purpose.
Should you start a blog?
The truth is that blogging isn't for everyone.  There's some people who are more fit for blogging than others. Here's some questions that may help you determine if blogging is right for you:
Do you like to read and write?
Do you like to research?
Are you a good communicator?
Do you have a message?
Are you disciplined?
Do you have time to blog?
Do you have thick skin?
Are you consistent?
Are you persistent?
Do you have a passion for your topic?
Do you like to engage with others?
Do you have patience?
If you answered no to a lot of these questions, then it's possible that blogging may not be right for you.  If that's the case, and you still want to start a blog, then you could always delegate the article writing to someone else.  By using a service like Upwork, you can find passionate bloggers who can post on your behalf.
If you answered yes to most of these questions, then it may be a good idea for you to start blogging yourself.
Step 1: Discover a Viable Niche
Before you start setting up your blog, you should know your target audience and niche.
When it comes to choosing a niche, the biggest mistake bloggers make is to focus on a niche that's too broad.  Unfortunately, when you try to speak to everyone, you end up speaking to no one.
For example, instead of starting a blog on "weight loss", you should target a specific segment of weight loss (i.e healthy weight loss for women, raw food dieting, vegan dieting, paleo dieting, etc.).
The more specific you are with your targeting, the more you'll be able to speak to an audience.
Also, you won't just be another blog on the internet about weight loss.  You'll be different.  People will come to your site because you'll be the authority on that particular topic.  This is important for branding and conversions.
By narrowing your niche, you'll be able to speak directly to a specific prospect without being too general.
It may seem that you're leaving out people, but that's actually a good thing.
You'll actually attract more of the right type of people.  It's not good enough to just get a lot of visitors to your website.  It's meaningless if they don't read your content and sign up for your offers.
One of the easiest ways to determine if your niche is viable is to goto Amazon.com and do a search for one of your keywords in the ebooks section.  For example, do a search for "vegan diet" and check the first page results.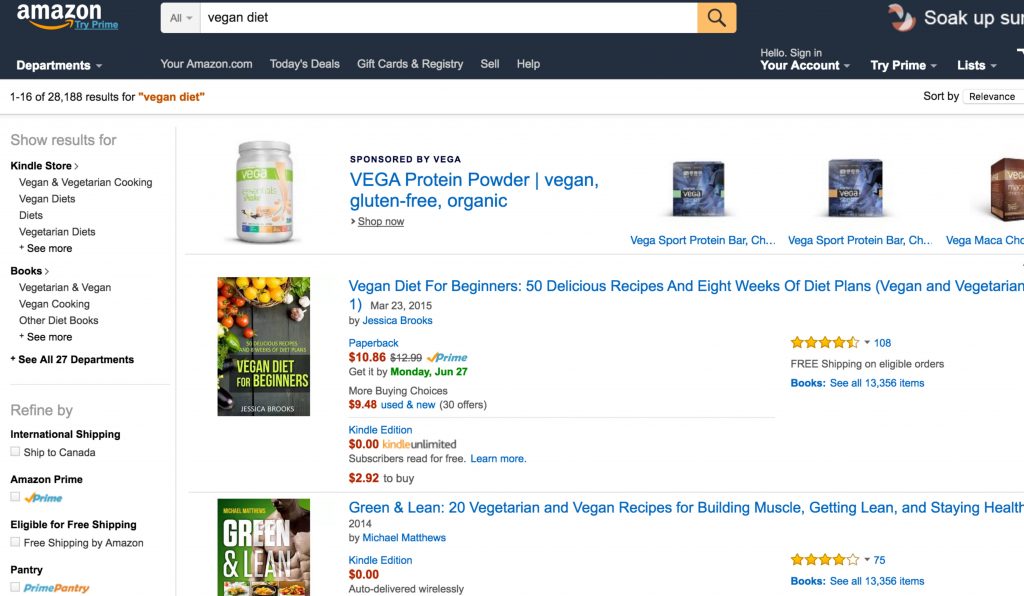 If you see that there's ebooks that have a good amount of reviews (greater than 50) and the average sales of the books on the first page is less than 10,000, then that could indicate that the niche is viable.
I would suggest searching using different keyword variations for your target niche so that you can get a clearer picture and determine whether the niche is truly viable or not.
Step 2: Choose a Domain Name and Hosting
When starting a blog you need to make sure that you secure a good domain name.  Without a good name, people visiting your blog won't remember it, and it will be challenging to build your brand without spending a lot of time, money and effort.
How to name your blog
Naming your blog well is essential for brand awareness.  A good blog name will be:
Memorable
Short (few syllables)
Descriptive
Here's some good examples of some blog names:
Nerdfitness.com
Paleodiet.com
Fullyraw.com
Paleoplan.com
Notice how all of these names are easy to remember, short and descriptive.
If you're finding it challenging to come up with a good name, use a tool like wordnik.com or thesaurus.com to come up with variations.
I like to combine words when coming up with a name.  So for example, if you're writing about paleo dieting, then use your main keyword "paleo" as your base keyword, and then add a modifier to it (i.e plan, guide, diet, etc.) like in the examples above.  When you combine two words, you'll not only be able to create something unique, but also compelling.
Come up with at least 10-20 version of blog name before choosing one.  Also, you need to make sure it's available to register.
Pro tip: Also check to see if the the social media handles (Twitter, Facebook, Pinterest, Instagram, etc.) are available for your name.  If it is, then it will be much easier to be consistent with your branding across the web.  Don't worry if it's not.  You can also always add modifiers to your social media handles.
Registering Your Domain Name
It's usually not easy to register a .com, especially if it's for a one-word or two-word domain.  If you notice that your domain is taken, consider registering a ".net".  A .net is a top level domain and won't be an issue in terms of branding.  A lot of companies have built their brand around a .net such as leadpages.net
When I came up with the name "Simple Startup", I found out the .com was taken, so I had to register the .net version.  At first I was concerned, but it hasn't affected my branding at all.  I've been able to get great traction with SEO and social media without any issues.
To register your domain, you'll need to use a domain registrar such as Namecheap or Godaddy.  I've used both extensively but I now exclusively use Namecheap to register all my domain names as they have great support and a much better user experience than Godaddy.  Namecheap has a more user-friendly backend, less upsell offers (which can get annoying after a while) and clutter than Godaddy.  Use this link to get the lastest coupons for registering domains.
Another way is to register a domain is to first sign up with a hosting company.  This is especially good if you're just starting out and don't yet have hosting set up.  Most hosting companies will include at least 1 domain name as a bonus.
Signup For Hosting
The second thing you'll need other than a good domain is hosting.  Without hosting, you won't be able to start your blog as that's where you'll install blog (WordPress) and upload files so that visitors can see it.
The hosting company I suggest using if you're just getting started is Bluehost.  I've tried many hosting companies in the past, but I've found that they have the most responsive and helpful support.  The performance is also good and you'll be able to run your blog on it without many issues.  In step 3, you'll learn how to install your blog within minutes using Bluehost.
If you want to sign up with Bluehost, they are currently offering hosting and a free domain for $3.49/month.
Step 3: Setup and Configure Your Blog
Before you can start your blog, you'll need to choose a blogging platform.  The question is should you choose a hosted or self-hosted platform?
I would highly recommend building your site on a self-hosted platform.  Building your blog on someone else's "land" such as Blogger.com, WordPress.com, tumblr.com, etc. is dangerous because you don't own or control it (aka digital sharecropping).  If they don't think your content is appropriate or you violate one of their rules, then all your content and traffic can disappear overnight.
That's why I suggest using WordPress as a self-hosted solution.  In other words, instead of using WordPress.com to build your site on, you'll be using WordPress.org.
If you're using Bluehost, you can simply use the Mojo Marketplace to install a copy of WordPress within minutes.  It's a much faster and easier approach than having to install in manually via FTP.
Here's a great tutorial by Bluehost on how to install your WordPress site:
Once you've installed WordPress, you can now login and configure your dashboard.
You also want to make sure you install and activate the right plugins for your blog:
Step 4: Design Your Blog
You've setup your blog, installed the essential plugins, and you're ready to choose a great theme for your site.
There's many places to choose a theme:
If you're just getting started, I would recommend choosing a template from a place like Studiopress.  Studiopress has over 80 themes to choose from.  It's very simple to install and they have great documentation and support to help you setup your new theme.
Themeforest is another great marketplace for finding great WordPress themes.  I would suggest using one of the more popular frameworks like Avada, Bridge or X Theme.  They usually come with many different templates and are fairly easy to customize.  It might take you some time to get used to the theme, but once you do, you can make it look how you want because there's a lot of different features/options available.  If you decide to go with a Themeforest theme just make sure that you purchase the extended support (12 months), as you'll need it when you get stuck.
Another great way to find a theme is to do a google search.  Use the keyword + "wordpress theme".  For example, if you're a personal trainer, then you can type in "personal trainer wordpress themes" in Google.  You should be able to find a lot of great themes this way.
Step 5: Create Compelling Content
When it comes to blogging, content really is king.  Without great content, you won't be able to attract an audience.  Without an audience, you won't get a lot of traffic and subscribers for your blog.
How do you create compelling content?
It all starts with choosing a great topic and headline for your blog posts.
Instead of trying to come up with something you think might work, why not find out what others are doing it, and create something better?
You can use a tool like Buzzsumo to find articles that are already getting a lot of shares, and then.  Usually list posts and how-to articles get a lot of traffic and shares.
For more blog post ideas, check out my blog post on the 6 ways to generate unlimited blog post ideas.
Cornerstone Content
When you're first setting up your blog, take the time to create cornerstone content.  Cornerstone content is content on your site that is foundational.  In other words, it's content that visitors can refer to as a resource.  This is important as it can increase overall engagement on your website and build trust with your readers.
Here's content that can be considered cornerstone content:
Home Page
Start Here Page
About Page
Resource page
Content Page
Ebooks Page
Contact Page
It's important to spend the time to create great cornerstone content that will engage your audience.  The  more compelling the content of these pages, the more people will stick around on  your site and convert into leads.
Once you've created cornerstone content and started posting on your blog, it's time to promote it.
Step 6: Promote Your Blog
Your blog is up, you've created some great cornerstone content, and you want to start getting traffic to your website.
Here's 5 ways to promote your blog:
Social Media
Social media marketing is one of the best ways to get visitors to your blog without spending any money on advertising.  If you don't use social media, then you're going to miss out on a lot of potential blog readers.
If you're just starting out with social media, I wouldn't suggest using all of them at once.  It's best to start using one platform, and then expand later (note: you should still register all your social media accounts from the start even if you don't use them all).
For example, when I first started Simple Startup, I primarily used Twitter, but later expanded to other social platforms like Facebook, Pinterest, Instagram, and so on.
It's important to choose a platform where your audience is.  You don't want to promote your blog if your target audience isn't hanging out there.  If you're a B2B blog, then it might be best to start out on Twitter or Linkedin.  But if your brand is highly visual (i.e recipes, fitness, etc.), then Instagram and Pinterest might be best.
SEO
Search Engine Optimization (SEO) is another great way to drive traffic to your blog.
SEO is essentially about getting your website to ranking higher in the search engines for your target keywords.
For example, if you write a blog post with the target keyword "vegan diet recipes", then you would optimize the title, description, images and content to ensure that post was optimized for it.
You'd also let others know about your blog post so that they can share it and potentially get more links (which would help with rankings).
SEO is a long-term internet marketing strategy but since it's essentially free, it's worth optimizing your site to diversify your traffic sources.
Read my post 12 on page seo techniques that will boost your rankings to find out how to optimize your blog for search engines.
Forum Posting
Joining a niche related forum and adding value to the community can help promote your blog.  By being a helpful resource and answering questions for people, you'll be able to build trust and rapport with your community.  They will be much more likely to message you and click on your signature.
To find a forum to find, simply goto Google and type in: "your primary keyword" + "forum".  For example, if your primary keyword is "raw food dieting" then you'd enter "raw food dieting forum" in the search box.
Go through the top 10 results and see which forum is active and register for it.  Before posting on the forum, I would first recommend reading the posts by other members and getting familiar with the forum etiquette.
Also, don't post your link right away — give it at least a week.  This way you'll be able to contribute to the community in a valuable way without coming across as a spammer trying to promote your blog.
Blog Commenting
Commenting on other blogs related to your niche can be a great source of traffic.  By leaving a comment, you have the opportunity to link back to your website with your name.
Keep in mind that although blog commenting is a great way to generate extra traffic to your blog, it's also easy to be perceived as a spammer.
Here's what you shouldn't do as a blog commenter:
leave generic one-line comments like "thanks for this post", "great, thanks", etc.
use a spammy looking email address and website
use keywords as your name instead of your real name
link to non-relevant websites in your comment
Here's what you should do:
read the article and leave a useful comment related to the blog post
be personable; address the writer of the post by their first name
add value by providing your insights and feedback
Use Gravatar to display your profile pic across the web
The key to making blog commenting work is to provide value.  You don't want to be labelled as a spammer, so try your best to be as useful, relevant, and professional as possible.
Paid Advertising
If you want to start getting traffic to your website immediately, then look no further than paid advertising.  For as little as $5 a day, you can start promoting your posts on the main advertising platforms.
Here's 5 advertising platforms you can use to promote your blog:
Facebook Ads
Bing Ads
Google Adwords
Pinterest Ads
Instagram Ads
You don't necessarily need to all of these to see results.  Pick one advertising platform and test out your audience.
If you don't yet know your target audience, I would create use Facebook's "audience insights" tool to find that out.
Once you've identified your target audience, then run a simple Facebook Ads campaign to drive traffic to your blog post to see if you get any engagement.  This will help you determine if your content is useful to that particular audience or not.  Then you can creating similar content that resonates with that audience.
Step 7: Make Money With Your Blog
So your blog is up and running, and you want to start generating some income with it.  That's great!
I believe that you should start monetizing your blog right away — don't wait until you're getting a lot of traffic to your website.
The sooner you start monetizing your blog, the sooner you'll start making money which will give you a taste of what it's like to earn passive income.  This in turn will motivate you to continue creating great content for your audience and make even more income.  It's a great cycle.
When I first starting blogging in 2007, I put up some Adsense on one of my blogs, and I started earning a few dollars a week.  Eventually I started getting more traffic and my income started going up as well.  This motivated me to continue creating content and starting blogs in other niches.
Here's 7 ways to earn income from your blog:
Google Adsense
Affiliate Marketing
Ebooks
Online Courses
Membership Site
Consulting/Coaching
Do-It-For-You Service
Read my post, 7 Highly Profitable Online Business Models for Entrepreneurs, to find out which one would be best for you.
Conclusion:
Starting a blog can be a great way to make passive income and build a business around your passion.
You can start your blog in 7 simple steps:
Discover a viable niche
Choose a domain name and hosting
Setup and configure your blog
Design your blog
Create compelling content
Promote your blog
Make money with your blog