Are you struggling with completing important projects and tasks?
Is your phone and internet the biggest source of distraction?
If so, you're not alone. The average person in America spends more than 3 hours on their phone every day and checks it every 12 minutes. Most of that time is spent sending text messages and social media.
But even though the apps on your phone can be the biggest source of distraction, it can also be the greatest way to become productive as well.
By using the right productivity apps, you can not only reduce the time spent on your phone and internet, but also boost your productivity significantly.
But like all tools, they're only useful if you use them consistently and in a way that works for you.
In this post, I'm going to share the best productivity apps that I use to stay productive and get the tasks I need to get done each day.
Writing down your goals has been proven to be effective for getting things done.
If you see it in writing, then you're much more likely to commit to the goals that you set each day and week.
Fortunately, you don't need a pen and paper to write down your actions tasks for the day.

The app that I use for scheduling tasks is Todoist. It's a task management tool that helps you manage and keep track of your tasks and goals with the aid of projects, labels, filters and priorities.
The main purpose I use Todoist for is focus on the primary 3 tasks of the day and week.
For each task you can set a due date and a notification. For my primary tasks, I assign them the highest priority and they show up as red (which reminds you that it's urgent). Those are the tasks that I must do each day to make sure I'm making progress with the main goals such as writing, publishing a blog post, reading a book, creating a course module, etc.
Another way to use Todoist is to keep track of any memberships that you're part of. If you signed up for free trial, then you can add that to memberships so that you can cancel if you don't want to continue past the trial.
In the past, I'd get charged for trials or memberships that I completely forgot I signed up for and would be charged which is frustrating. But with Todoist, you can assign a date and decide later if you want to continue the trial or membership. You can add notifications so that it'll alert you a few days before.
You can also integrate Todoist with Google Calendar. This way, you can see all your tasks show up in Google Calendar as well to help keep you on track.
You're also able to create projects and color code them. So for example, I have projects created for "Primary 3 Goals", "Books to Read", "Movies to Watch", and so on. You can easily assign each task to a specific project which will help you stay organized.
Overall, Todoist is the one productivity tool that I can't live without. If you're serious about getting your tasks done and being as productive as possible, then try it out for yourself.
You can sign up for the Free plan or purchase the premium plan if you need more features such as notifications, reminders, labels, filters, calendar sync, etc.
Here's a comparison of free, premium and business plans.
If you want to try premium, you can get 3 months free trial in the perks section of the Freedom app. You'll need to sign up for the Premium version to get the 3 month trial.
If you're struggling with distracting websites and apps, then the Freedom app can help. It's become my go-to tool for staying distraction free while I'm doing deep work every day.
With Freedom, you can create block lists (e.g entertainment, social media, etc.) and block those sites for a set amount of time.
If you're looking for a complete distraction-free environment, then you can block all websites. This way you can't access the internet and won't be tempted to check anything. But you can also whitelist certain sites that won't be as distracting and relevant for what you're working on. For example, if you know you'll need a few websites for research, then you can add those sites to the "website exceptions" list.
Freedom is great especially if you're working in focused block of time each day. I work in 25 minutes or 52 minute blocks/sessions so during that time I'll create a session for however long I'm working — sometimes hours at a time. I find that I'm most productive when I know I can't check email, social media and Youtube. It's either get to work or be bored sitting on your hands waiting for the session to expire. I'm not sure about you, but I'd rather choose the former every time.
The good thing about Freedom is that you're able not only block distracting websites on your desktop but also your phone. They have a mobile app for both iOS and Android.
With the premium version, you can check locked mode. In locked mode you cannot cancel your session. I find this feature useful because I know that once I start a session I can't just turn it off. It puts me in a different frame of mind so that I'm ready to work.
Here's a comparison of the trial vs premium version:
If you're serious about getting real work done without distractions, then I'd recommend getting the Premium version.
You can see the full list of features here.
Insight is a new and free Chrome Extension by Freedom which allows you to track which websites you're spending time on.
Insight by Freedom gives you a complete breakdown of all the websites you've visited and how much time you've spent on each one. You can see the stats for today, yesterday, this week, last week and also a custom date.
You can track the total time spent on all websites as well as each individual website. Sometimes we're completely unaware as to how we're spending time surfing the web, so this can be a great way to find out what websites are the most distracting. You can then add it to a blocklist in Freedom.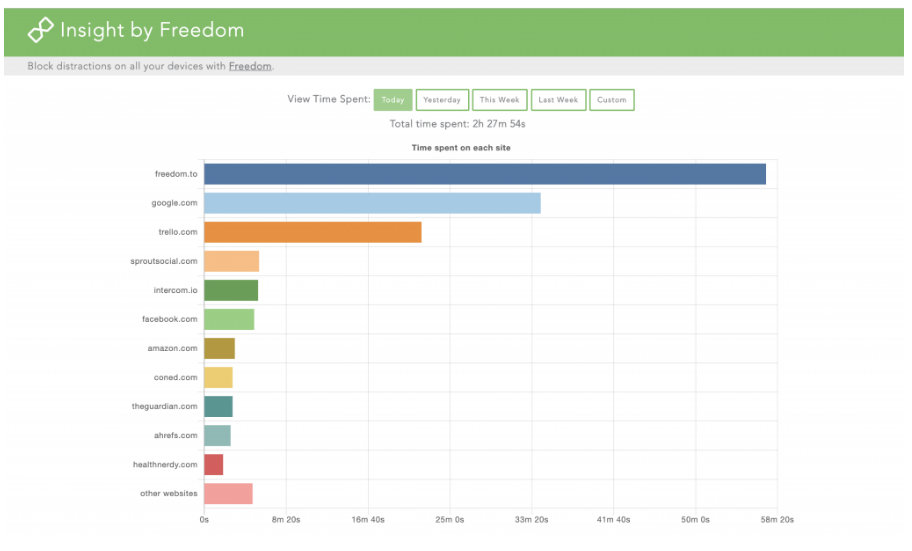 It also provides you with a chart once there's enough data, so that you can see how much time you're spending a specific website each day. This is a great way to see if you're making any progress on spending less time on distracting websites.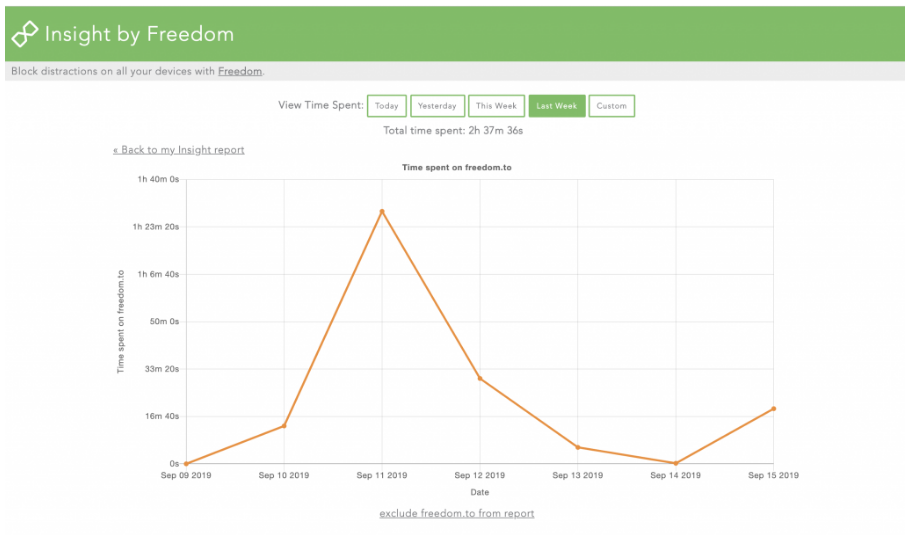 You can also display a timer for the time you spend on a website although it's optional.

Fortunately, none of the data is uploaded to their servers or used in any way so you don't to worry about privacy issues. All the data is stored locally on your computer.
If you want to keep track of what websites you're spending the most time on then I'd recommend installing it for free here.
4. Goodtime
Goodtime app (Android) was a game changer for me. I was searching for a good app to keep track of my Pomodoro sessions and happened to stumble upon this app in the Google Play store.
With Goodtime, you can track your habits (e.g meditation, writing, podcasts, reading, working out, etc.)
Every time I do something meaninful such as writing or meditation, I'll set the timer for 25 minutes or 52 minutes. This will keep track of my sessions by showing stats.
What I like about Goodtime is the minimalist design and clean user interface. You can color code each category so it's much easier to keep track.
Once your session is over, it will alert you and record a session.
If you missed tracking a habit for the day, you can also add it manually (duration, time, and label).
If you're looking for a user-friendly Pomodoro timer and habit tracker, then I'd suggest getting this app.
You can download and install the app from the Google Play Store.
5. Google Calendar
You may have heard the saying, "what gets scheduled is what gets done".
For the longest time I ignored using a calendar to plan my days and weeks. I thought it was too structured and didn't suit the way I did things.
But I realized that I was missing or late to webinars, streaming events and workshops that I signed up for all the time. That's when I decided it was time to start looking for a good calendar.
Google Calendar allows you to schedule all-day events as well as specific events. For example, if you're going to be working out this week, you can set it for 5pm – 6pm and it will notify you prior to starting.
I prefer to use the "schedule" view on the mobile app vs. desktop because it shows the tasks and events in a clean and user-friendly way. Certain tasks will also show up with a image (e.g workout, reading, etc.) so that it's more visual.
You can use Todoist calendar sync to integrate it within Google Calendar. All of the tasks that you schedule within Todoist will also show up in Google Calendar so that you can see all the events and important tasks in one place.
If you're not yet using a calendar for scheduling your events and tasks, then I'd suggest trying out Google Calendar. Use the desktop version to set up your calendars and sync with Todoist. Then I'd suggest using the mobile app for reviewing each day.
Rescuetime is an automated time tracking software that keeps tracking of how you spend time on certain websites and programs. It gives you a detailed overview and analytics which you can use to improve your productivity.
Rescuetime runs in the background on your computer, phone and tablet. Fortunately you don't have to manually enter any data — it's all done automatically so that you can focus on getting work done.
Each day you'll get a productivity score based on how well you spent your time. Distracting websites will show up as red, and productive sites blue.
Rescuetime automatically categorizes the apps and websites for you, but you can also manually place them in more relevant categories if you prefer.
I've been using RescueTime for a while now, and it helps keep me on track. I've set my work hours so as long as I'm using productive apps and websites I'll get a good productivity score for the day. If I have an off day and I'm surfing the web on "very distracting" websites then it'll show up in my score.
But to maximize your productivity, also use an internet and app blocker such as Freedom while you're working during work hours. For example, if you have your work hours set to "10am – 1pm" before a break, turn on Freedom during this time as well so you won't be tempted to check any of those distracting sites. It's just another way to ensure that you're going to be as productive as possible for the day.
Here's how Rescue time can help you understand and optimize your time:
If you're looking for a more in-depth way to keep track of your time on the computer and online, then I'd advise you to download and install RescueTime on your computer.
Do you ever watch a video on Youtube or read a blog post and wished you could have saved it to watch or read later?
If so, then I'd suggest checking out Pocket. With Pocket, you can save articles, videos, and blog posts to view them later.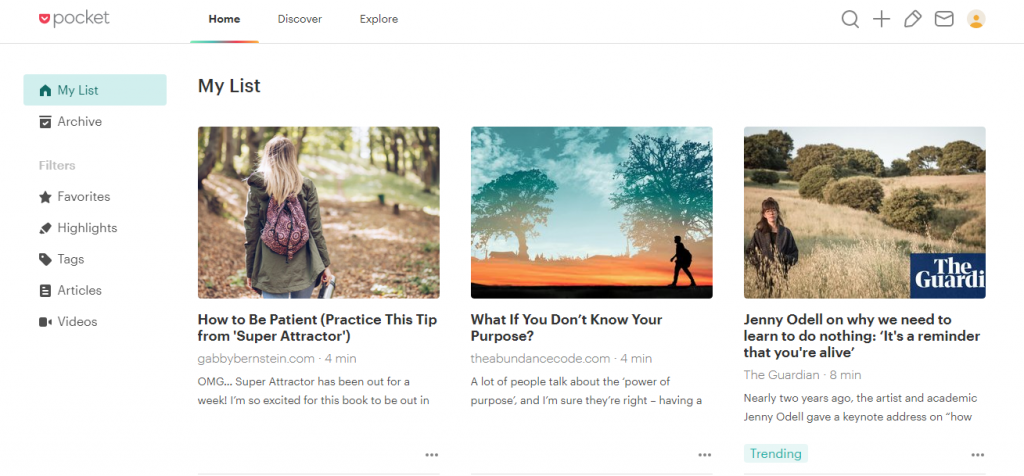 You can also assign each article or video that you save with a tag (e.g productivity, marketing, sales, content marketing, etc.) so that everything is organized and you can access content based on a specific topic.
With Pocket you can also make highlights and revisit them later if you're doing research. It's a great and easy way to find and organize content on the web.
Pocket also sends daily or weekly newsletters that round up the best of pocket. It's a great way to discover new articles. You'll also get a newsletter of the articles you saved so that you'll be reminded to read them.
If you're looking for a simple and easy way to save content on the web, then sign up for Pocket for free. The premium plan has more features such as suggested tags, full-text search, unlimited highlights and premium fonts.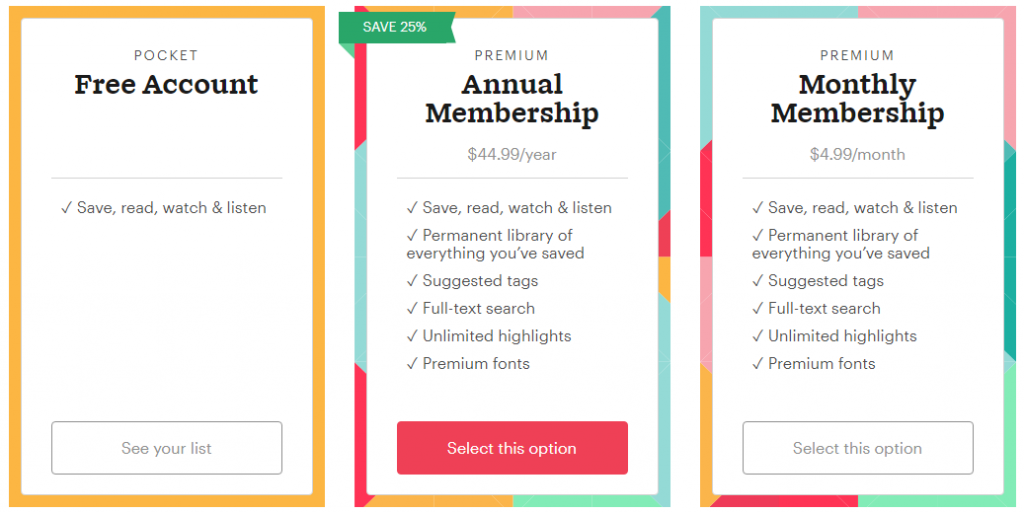 A good note taking app is essential to help boost your productivity. Similar to Evernote, you can organize your notes in notebooks.
What I particularly like with OneNote is that you can re-order the notes and create a heirarchy the way you want. I couldn't do that with Evernote so it it made sense to stick with OneNote.
Using the OneNote web clipper you can save web pages, articles, screenshots, and add bookmarks to specific notebooks and sections which makes it easy to organize your files.
YourHour is a productivity tracking tool that allows you to track how long you spend on your phone and how many times you check your phone.
It's important to know these stats because you'll have a baseline to improve on.
YourHour keeps track of how you use your phone. It shows you exactly how long you spend on each app. If you notice you're using one app too frequently and it's not helping your productivity then you can add that to your blocklist on Freedom when you're working so that you won't be tempted to check.
I'd recommend using this app for keeping track of your daily habits on your phone.
Brain.fm is a science-based functional music software that helps you improve your concentration, relaxation and sleep.
I've been using this software for the past year or so, and I've seen noticeable improvements in these areas — especially focus. I use it with headphones to get into the flow when I'm doing deep work (reading, writing, marketing, etc.). It takes less than 10 minutes to see results.
There's 3 categories you can choose from: focus, relax and sleep.
Each category has different types of music including classical, ambient, cinematic, electric and many others. Just choose the category (e.g focus), and then choose the music in that category that you want to listen to.
I would suggest trying it out for free and see if it works for you. If so, you can upgrade to the pro version for $6.95/month or $47.40/year.
Conclusion
There's no shortage of productivity apps that you can choose from. Just type in a relevant keyword in the Apple or Google Play Store, and you'll find many types of apps for different purposes. The key is to try many out and see which ones work for you.
I've experimented with many apps over the years. The apps I've listed in this post are ones that I've found to be the best for my workflow and have made my life much easier when it comes to getting things done. I hope you'll consider trying some of these as well.
In future posts, I'll go into depth about my workflow and other useful tools and apps that helped me optimize my time, energy and focus.