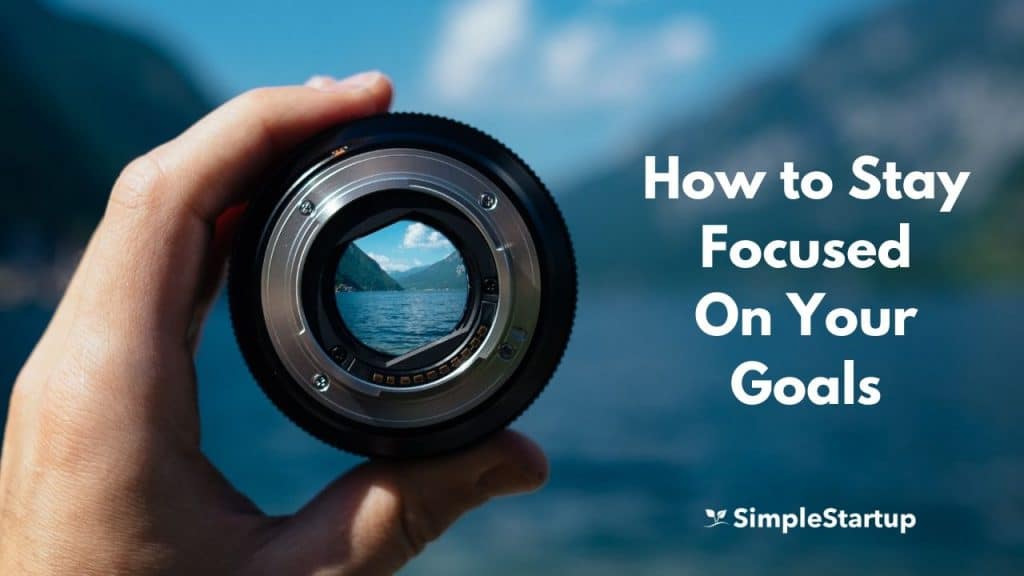 "Time Management is really a misnomer – the challenge is not to manage time, but to manage ourselves."

– Stephen R. Covey
Do you still find it challenging to stay focused on your goals and get things done each day?
When it comes to time management, most people think about how they can manage their time better.
But you can't manage time, if you can't manage your energy, focus, will power, thoughts and emotions.
Time management is a mental game. If you get distracted easily, lack energy, and have brain fog then time will essentially be hard to get control over.
In this post, I'll show you how to stay focused on your goals so that you can get things done consistently.
1. Build Concentration Power
Building concentration power is akin to working out. The more you focus on it, the greater your "concentration muscles" will be.
The fastest path to increasing your focus is to meditate every day. It's the purest form of concentration a human being can do. It's just you, your thoughts, and emotions.
Every day, spend some time meditating — even if it's for just 5 minutes. Although you won't notice a dramatic change right away, if you're consistent, you'll notice that you're a lot more focused while you're doing your sessions.
Meditation also helps with relaxation. If you're more relaxed you'll be more likely to get into the zone when you start working on your projects.
If you've never meditated, I'd suggest using guided meditation apps like Headspace and Ten Percent to help you get started with your meditation practice.
2. Will Power
You have limited will power each day. Most people have the most amount of will power and energy in the morning and it tapers off throughout the day.
In fact, studies show that the brain actually is bigger in the morning and gets noticeably smaller throughout the day.
That's why it's important to take advantage of the mornings. When you get up, what's the first thing you do? Check email? Social media? Watch Youtube videos? Text friends & family?
When you wake up, don't reach for the phone the first thing. Drink a glass of water and then do some affirmations, journal, meditate, read, etc.
It's not easy at first. It takes about 66 days to build a habit and routine but if you really want to see changes, then you'll need to stick to something long enough to see results.
3. Focus on what you can control
You cannot control external forces, but you can control yourself. You can control your reactions, what you put into your body, the things you watch, read, listen to, who you hang out with, and much more.
So there's no point hoping the external world will change. Focus on yourself first, and everything will take care of itself.
It's not easy managing your thoughts, emotions and feelings. We're creatures of habit so if you always react to something in a certain way, then it's likely you'll continue to do so.
But it's important to be mindful of your reactions. Next time something triggers you — a person, a food, an anxious thought — just be aware of it. Observe how you feel in the moment. Let the emotions course through your body. It's simply a spike and will calm down in a short time.
So the first step is to become aware of the trigger (e.g person, food, thought, etc.).
The next step is to change the response. How do you react? What's the reward? If your reward is to eat some chocolate or cookies every time you feel anxious, then think about what you can replace that habit with?
Instead of eating the cookie or chocolate, take a walk. Drink some water. Listen to some relaxing music. Meditate. The key is to disrupt the patterns that continue repeating.
For example, one of my triggers is anxious thoughts for a variety of reasons throughout the day. Whenever I'm feeling anxious, I'll feel the need to distract myself with ice cream and watching Youtube videos. Before I know it, hours have gone by and I haven't accomplished anything.
So the way I combat this is to focus on my breathing. Anytime I feel anxiety, I inhale and exhale deeply for a few minutes. I'll also drink a glass of water. Within a short time, I feel less anxious and I'm able to continue working.
The most important part of this practice is to stick to it. Be persistent. It'll be challenging at first. You may do it for a few days and then give in to your usual temptations. But if you continue to interrupt the patterns over and over, you'll overcome it. Give it at least 30 days. For some it may take less time and more time for others.
4. Take recharging breaks
Breaks are meant for rest and renewal. They're meant to recharge your battery so that you'll have the energy and focus to continue working.
Creative work like writing, marketing, product creation take a lot of focus. So if you're not well or blocked then you won't create your best work.
Here's some things to do on your break:
Take a power nap (20-30 minutes)
Meditate
Stretch
Walk
Drink water
Breathing exercise
Focus on the positive
What you shouldn't do while on break
Use the thing that most distracts you — phone, check email, Youtube, etc.
If you engage in a distracting activity, not only will you not feel renewed, you'll most likely end up wasting more time and the 5 minute break will turn into a 20 minute break. After all, it takes an average of 23 minutes to get back on track once you're focus on something else, so it's important to do something that won't pull you in.
I'll usually do some breathing techniques during my breaks. The deep breathing and focusing on my breath energizes my body and brain. I'll also do some affirmations to reinforce the positive emotions.
5. Do a Weekly Preview and Review
When you plan your days and weeks, you'll be more likely to follow through and get those most important tasks (MIT) done. If you wing it, then you'll probably forget to do it or work on less urgent tasks.
One of the best ways to plan your weeks is to do a weekly preview.
In the weekly preview, publish your 3-5 most important tasks for the week. You can also add any secondary tasks, but they're only to be done after doing the most important tasks first. Also write down the actions you'll take to ensure your week will be productive.
In the weekly review, you'll answer questions such as " what were your biggest wins of the week?", "what wasn't completed", "what have you learned" etc.
By getting clear about your previous week and preparing for the next week, you'll be much more focused, organized and ready to do the work with intention each day.
Conclusion
So the goal then is not to manage time, but to manage your thoughts, emotions, reactions, will power, energy and focus.
Each day work on strengthening these by working on the most important tasks that will most the project forward.
If your goal is to finish your book within 3 months, then your most important task will be to write at least 500 words a day. It's the words afterall that make the book, so you'll need to get that done no matter what.
Build focus by meditating and working in focused blocks of time. Over time it will get easier to get into the flow state and get more done in less time.
Manage your energy by watching what you eat and what you take in digitally. What you put in — whether it's physical or digital — will result in a certain output. So focus on taking in quality inputs each day.
Also use your breaks for rest and renewal and not engaging in distracting activities like checking your email or phone. You'll only feel more stressed and anxious and it will be more challenging to get the next task done.