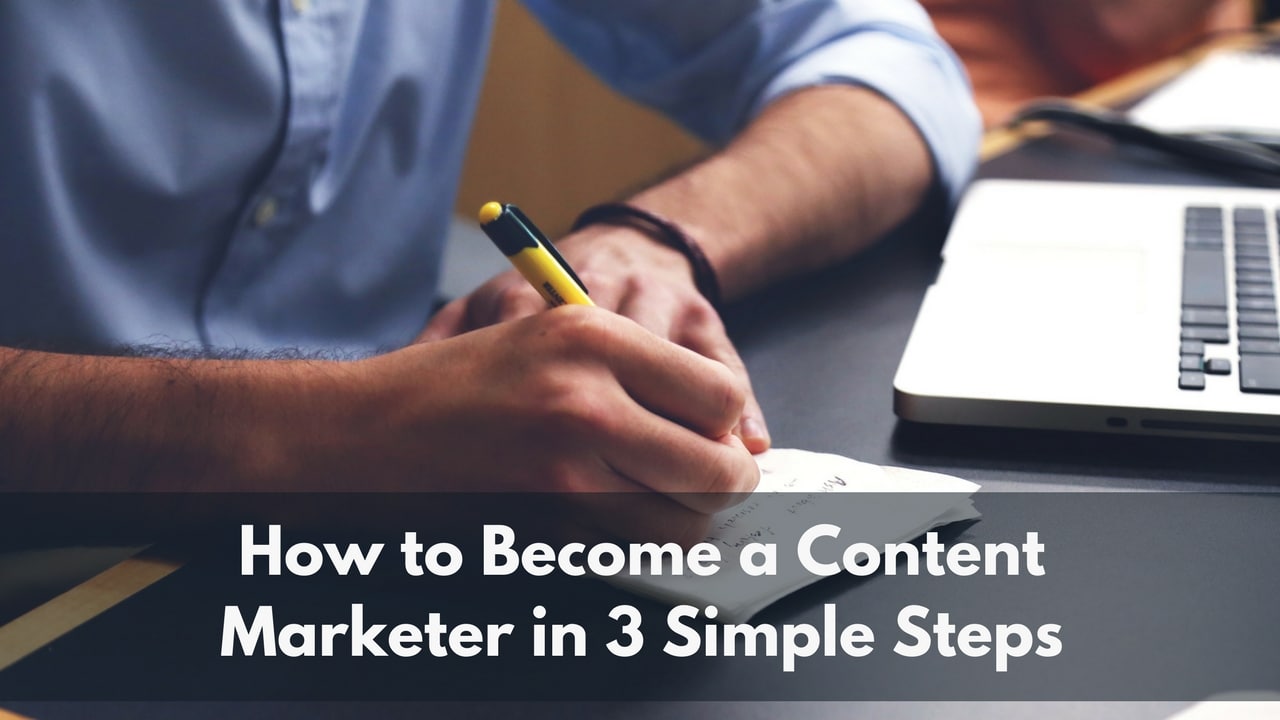 Do you want to know how to become a content marketer?
If so, you're in the right place.
Content marketing is one of the best ways to attract an audience, build traffic, and convert visitors into leads and sales.
What is Content Marketing?
Content marketing is about publishing content on a medium for a target audience to inform, entertain, educate and soft sell your products and services.
But if you're going to be a great content marketer, then you need to create a solid content marketing strategy.
The first step in creating a solid long-term content marketing strategy is to get clear about your audience, type of content, and your medium.
1. Start with your audience
If you want to be a great content marketer, then you need to really understand your target audience. This goes beyond generic demographic information such as their age, gender, household income, and so on.
Here are some things to know about your audience:
What do they value?
What are their goals and motivations?
What do they think about on a daily basis?
What are their biggest fears and frustrations?
What other products and services have they tried to solve their problems without much success?
Who do they follow online?
What blogs do they read?
The more you know your audience's needs and desires, the better you'll be able to serve them and create content they'll actually like to consume.
The key to succeeding online with your business is to build an audience that likes and trusts you. Content marketing can help you do that because you're providing value. As long as you consistently publish great content, then you won't have many issues with this.
Keep in mind that if you want to do well long term and maintain the trust of your audience, then you need to listen to what they're saying — whether it's blog comments, youtube comments, emails, and so on. The more you listen to them, the better you'll be able to serve them and keep them happy.
It doesn't mean that you need to necessarily reply to every comment or every email. This is unsustainable especially once you have a large audience. But listening in and writing down what you see is a good practice.
Interview Your Target Audience
If you're just starting out and don't have an audience, then it's probably a good idea to start talking to people. It's hard to create great content out of thin air, so if you're going to do well and create content people actually want to consume, then you'll need to know what their needs are.
Find 5-10 people that you know might be interested in your topic and ask them questions. You can start with friends and family to get comfortable, and then move on to people you don't know.
Ask them what their biggest fears and frustrations are when it comes to X. For example, if you're creating products in the weight loss market, then you'll need to know what their biggest challenges are. Is it belly fat? Is it self-sabotage?
Ask them what they've tried before without much success.
Ask them what their goals are. What do they hope to accomplish within the next 3 months, 6 months, 1 year? Where do they see themselves in the next 5 years?
Ask poignant questions, and then just listen. Don't interject too much otherwise you won't really get the most out of the interview. The more you absorb and understand where they're coming from, the better you'll be able to address their needs when you start creating your content.
Also, write down any questions they ask. Remember: content marketing is about answering questions better than anyone else. This is how you get an advantage. If you know the questions your exact target audience is asking, then you'll simply create content that will address those questions.
If you know your topic well and you already have an audience, then you can do a Q & A session with them. Do a live stream on Youtube, Facebook Live or Periscope. You'll get more valuable information and questions from your audience in a short time, then you ever thought was possible. You can answer these questions on the fly, but you'll also use those questions to create content in the future.
2. Know the type of content you'll create
There are 3 primary ways to communicate your message to your audience:
Video
Audio
Written
Choose the one which you think you'll most likely do. For example, if you enjoy speaking and talking to people on the phone, then audio might be the best way for you to communicate.
If you like being in front of the camera — or at least not terrified of it — then creating video might be the best way. But even so, you can still create quality videos even if you don't want to show yourself. There are many Youtubers that do well and have millions of subscribers and views that don't ever show their face (i.e gamers).
If you're a writer then it might be best to start with writing.
If you don't know what to do, then start with your strengths. It'll be much easier and you'll be less likely to procrastinate if you choose to do something you are actually good at and enjoy doing. You will be better able to connect with your audience which will lead to more subscribers, social shares, and downloads.
3. Know Your Medium
You need to know the medium you'll be using to publish your content. There are many ways to communicate with your audience online — social media, email, blogs, podcasts — but if you're going to do well, then you need to pick one to start.
Start narrow and then expand to other platforms once you've built an audience on there.
For example, if you're going to be vlogging, then Youtube will be the best medium. If you're going to be creating audio, then podcasts will probably be the best for you.
The key is to choose one medium.
The medium I primarily use is social media and blogging. I've always been a writer, so I thought it would be better stick to my strengths instead of trying to figure out Youtube — although it's something I may get on eventually.
There are many ways you can get your content in front of an audience:
Youtube
Podcasting
Video and Audio Interviews
Publishing eBooks
Guest Blogging
Social Media Posts
So choose one of these mediums to start and publish content on their consistently.
How often should you publish content?
Ideally, you want to publish content once per week and promote it for the entire week. For example, if you published a blog post on Monday, then you'll want to promote that content as much as possible using ads, email outreach, etc. until Sunday. Then publish again on Monday and repeat this process.
There are some content creators that publish more than once a week — sometimes once per day, or even multiple times per day. I wouldn't suggest publishing this frequently to start, but if you build a large enough audience and have the discipline to publish this much, then you could see great results.
For example, Neil Patel publishes a new podcast episode on his podcast Marketing School once per day — even on weekends. They are short 5-10 minute long audios that teach you how to become a better marketer.
But if you're going to be publishing this frequently then make sure the quality is still the same as when you're publishing once per week.
What if you don't have enough time to publish even once per week?
I wouldn't recommend publishing less than once per week — especially if you want to build momentum and audience quickly — but if you're truly strapped for time then definitely publish no less than once per month. If you choose to publish only once per month to your Youtube channel, blog or podcast, then make that content epic. Don't write once per month on your blog, and then make it a 300-word post. It won't do anything, and you won't build any trust with your audience. They'll start to unsubscribe and think your blog is dead.
So if you're going to create content only once per month, then make sure it's great in-depth content. For example, write a 3000-word post instead. I'm not suggesting that length is the only thing that matters, but it's hard to create epic content that's less than say 1000 words. So since you won't be publishing often, then make sure that content you create really hits the ball out of the park.
What day should you publish your content?
There is no set day or time to publish your content. The best way to know for sure is to post at different times and then look at your analytics. I use a social media tool called Buffer to schedule my posts for social media. For example, every day I schedule 20-24 tweets for Twitter and based on this data, I can use their time optimization tool to see which times perform the best. Then I can publish my content on those times to get better results.